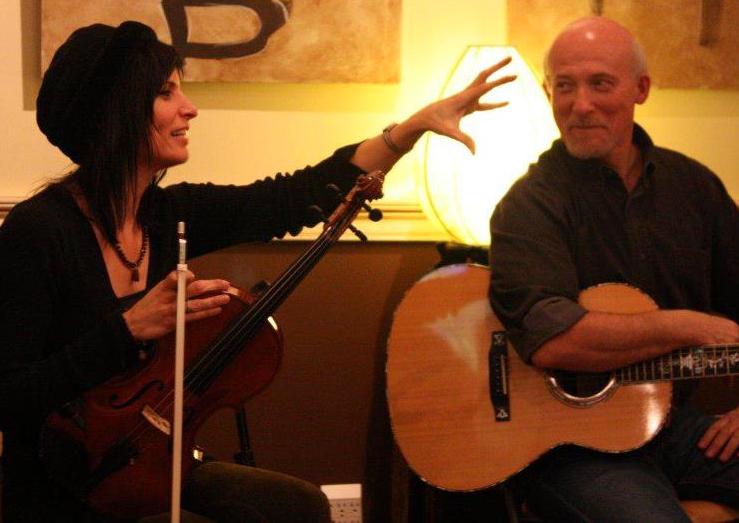 "Musically delightful, emotionally involving work" ~ Sing Out! Magazine
"Your beautiful CD was just what I needed to hear today! So lyrical and soothing, with lovely instrumentals and vocals."
~ Sharon Isbin, GRAMMY award-winning classical guitarist
Ron Hipp w/Carol Statella ~Out of the Rain~ is a folk duo noted for innovative arrangements and unusual expressive power. Ron Hipp has been known in the Atlanta area as an accomplished solo artist and Carol Statella has played and sung in various groups over the years. Their joining forces to regularly perform and record music together has created a compelling, poignant sound that is both timeless and fresh.
Ron is an acoustic fingerstyle guitarist/singer/songwriter and multi-instrumentalist. A native of Atlanta, he's been performing both solo and in various band combinations since about the age of 16. His rich baritone voice, consummate fingerpicking, and mesmerizing songs make his shows a memorable experience. Ron has graced many a recording project by other artists over the years as a studio musician, and has many CD cover photos to his credit.
Carol (multi-instrumentalist/singer) has played in backup orchestras for Joni Mitchell, The Moody Blues, and Brian Wilson. She's been a music journalist, radio announcer, and clinician. In the classical realm, she's played in the Atlanta Opera Orchestra and sang for seventeen seasons with the Atlanta Symphony Chorus/Chamber Chorus. Carol's also a songwriter.
Ron and Carol have known each other and crossed paths musically for over two decades, through many artistic and personal evolutions. Their sound is warm, eloquent, and vivid. Onstage, Ron and Carol draw audiences in with artful musicality, occasionally inane humor, and absolute focus on bringing the listener into the depths of a song.
Ron's first album of original songs and instrumentals titled Two Hearts received international folk radio airplay and glowing reviews from press and concert presenters. The single Auld Lang Syne (in 3/4 time) is widely played and available on iTunes.