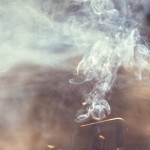 LIGHT-WINGED Smoke, Icarian bird,
Melting thy pinions in thy upward flight,
Lark without song, and the messenger of dawn,
Circling above the hamlets as thy nest;
Or else, departing dream, and shadowy form
Of midnight vision, gathering up thy skirts;
By night star-veiling, and by day
Darkening the light and blotting out the sun;
Go thou my incense upward from this hearth,
And ask the gods to pardon this clear flame.
~Henry David Thoreau
These days, every single time we have a sliver of a chance to perform, rehearse, or go out to hear music is truly cherished. Everything's been concentrated essence. More dates to be added soon as they're confirmed–we're also both feeling a need to perhaps play in non-standard venues, to bring the music out in different ways. The form, the "how" will develop soon enough.
Tomorrow night 4/7, The Crimson Moon Cafe in beautiful Dahlonega. Go online to reserve good seats that remain! Humble Tripe opens.
Saturday 5/5, we're happily returning to The Hungry Ear Coffee House in Sandy Springs, sharing the evening with Keltic Kudzu.