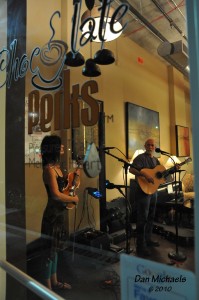 The air feels completely different today, and the sky is deepening into fall. Both of us have been experimenting (enthusiastically!) with various instrument setups and gear while new songs are brewing under the surface. Tone and color are everything. Well, almost.
Speaking of cool air, and breezes…on Monday, September 13th, we'll be playing up in picturesque Jasper, GA as part of the Casual Classics Series presented by Jasper Muse, Inc. It looks like a beautiful, warm setting. Music will begin at 7:00, and the location is New Lebanon Presbyterian Church on 389 Bent Tree Drive. We're honored to be part of this series started by musician/mentor Suzanne Shull that features the performing gifts of Atlanta Symphony musicians and internationally acclaimed classical artists as well.
Two Hearts has continued to chart on the Roots Music Report and on Airplay Direct, with songs being picked up by stations across much of the northern and western US, as well as in Scotland, Canada, Australia, Germany, and The Netherlands.