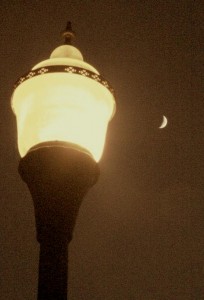 That one hour of extra sleep, we eagerly anticipate. And here's a picture Ron took on Halloween. Which is to say–while enjoying music with close friends and some we see just fleetingly, it's also been a time to simply abide. Those who know us well are aware of the changes, losses, and responsibilities that have gathered around since Two Hearts came out. Similar seasons, also, have been true for many of our fellow musicians and lovers of music. So we've been very mindful of our best use of life force. The time we have to create and be with you becomes ever more precious.
We're extremely honored to have been asked to perform the theme song from novelist Jodi Picoult's Sing You Home for the American Music Therapy Association (AMTA) annual conference. Cathy Fink and Marcy Marxer will be at the conference as well, spreading their genius and ukelele love.
This coming Saturday 11/5, we return to 45 South Cafe in downtown Norcross (one of our favorite haunts . . . oooo, sorry!), and we'll start around 7:00 or as-soon-as-we-can-get-our-sound-absolutely-right.
Then, more fun in some pin-drop listening environments! We're thrilled to be back at Ragamuffin Music in Roswell on Saturday 11/19, a place that has a vibe like no other–you can truly feel the warmth and joy in there. Then on Saturday 12/10, our first house concert. We got a chance to hear Pierce Pettis at Acoustics at Oaks End in Smyrna months back, and the gorgeous wooded (indoor) setting, great food, company, perfect sound, and hospitality were enchanting. For those of you who attend the Smyrna house concert, a gift. There you'll receive a free track (on CD) of a holiday-themed song from the yet-to-be-titled second album. On 12/17, we return to the cozy and beautiful Zen Tea.
Hope to see you one of those times, or more. Peace to you in the coming season.