In the universe, there are things that are known, and things that are unknown, and in between, there are doors.
~William Blake
Doors that feel like wind, river, air, earth, and the nameless. Sometimes they swing open. Sometimes they're like tunnels. No way to describe them adequately. Music comes close. We're glad you're here again.
This Saturday 2/25, we'll be back at one of our favorite places to play, 45 South Cafe in Norcross, at around 7:00. We've added two -ars and a few new songs, any of which may make an appearance. Some are Ron originals, some are re-workings–much variety, but all Out of the Rain. 45 South is a casual, friendly place with good food and drink where we enjoy trying out new material, particularly when the espresso machine runs or the train goes by.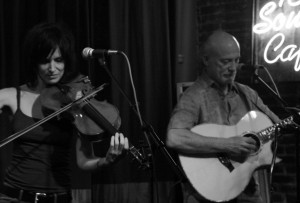 December/January was a good, good time of playing in new and familiar intimate spaces, seeing old-new friends and listeners, and resting. We were thrilled by the response of radio stations (and many of you) to our very limited release of Ron's arrangement of Auld Lang Syne, now on iTunes. It means the world to us–that recording process, we'll never forget.
Steadily, we're adding dates to the 2012 calendar, and making more time for the studio, too. On March 10th (Saturday), we return a little after 7 to Chocolate Perks – Your Neighborhood Cafe in Duluth. Check back here often! If you'd like to be on the email list, just enter your email address in the form to the right and we'll add you promptly.
In the meantime, Ron's working with conception and construction, and Carol's finding visual and tactile inspiration for sounds.
More Blake? Visit the archive.